Welscheit goes green
Sustainability and green energy
We at Welscheit GmbH HuH Mosaik are actively committed to more sustainability and green energy. For this reason, we have built a photovoltaic system with a capacity of 100kWp and a battery with a capacity of 70kWh. This allows us to cover a large part of our electricity needs from renewable sources while reducing our CO2 emissions.
Our electric vehicles are also charged with environmentally friendly electricity. To this end, we have installed e-charging stations on our area to enable our employees and visitors to charge their electric vehicles at our site.
But our sustainability efforts go even further. We offer CO2-neutral shipping and are constantly working to make our packaging more CO2-neutral. Together with Greenpeace and ORCA, we are working on solutions to make our company even more efficient. To this end, we are analyzing our electricity consumption, identifying weak points and shutting down large consumers. A new heat pump will soon be installed to optimize our energy consumption here as well.
In addition, we are also striving to further reduce our carbon footprint in the future. We are planning further projects, such as the installation of green roofs or facades, to make our buildings more climate-friendly.
We are convinced that our efforts help to fight the climate change and protect our environment. We are committed to a sustainable future and are working hard to achieve climate neutrality as quickly as possible.
---
Partner of the recycling industry
Interseroh
As a company, we are committed to make our contribution to climate protection. That's why we work with Interseroh, an experienced partner in the waste and recycling industry. Through this collaboration, we can ensure that our waste is properly disposed and recycled. This not only reduces our environmental impact, but also saves CO2 emissions. We are proud to do our part to help preserving our planet and hope you will join us in doing so.
Contribution to the climate protection
CO2-neutral shipping
We are committed to an environmentally friendly future and want to reduce our carbon footprint. That's why we work closely with DHL, a leading logistics company, to optimize our shipping process and minimize CO2 emissions. We are proud to offer you CO2-neutral shipping, where all CO2 emissions generated during transport are compensated by climate protection projects. In this way, we can do our part to protect the climate while providing you with a high-quality and environmentally friendly experience.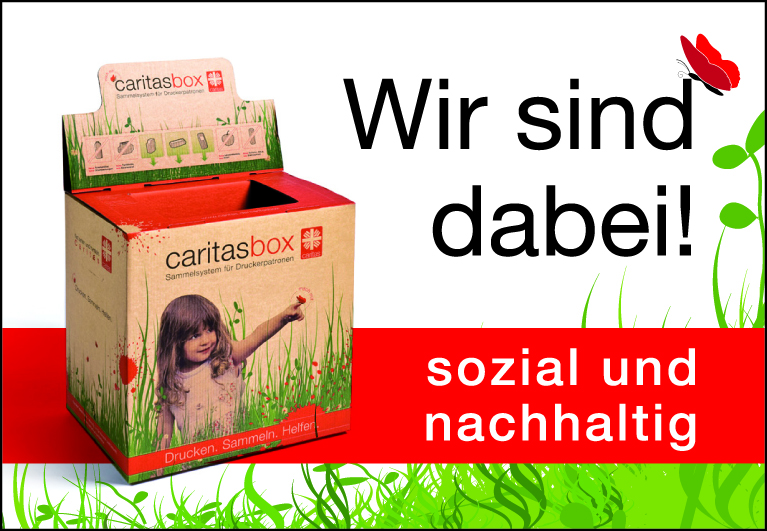 The CaritasBox
The CaritasBox is a campaign of Caritas and Interzero Product Cycle GmbH. All common original print cartridges from laser and inkjet printers as well as laser copiers and fax machines are collected here. This reduces the burden on the environment and raises money for projects that support people in need.